Hazel Grove Model Railway Exhibition
2024 Exhibition- 26 and 27 October 2024
Woodford (War Memorial) Community Centre Chester Road
Woodford
Stockport SK7 1PS

Saturday 10:00-17:00
Sunday 10:00-16:00
Early access for mobility impaired individuals from 09:30 on Sunday 27 October.

Courtesy Bus from Hazel Grove Station
Admission charges-
Adult £7
Accompanied Children Free (Max 2)
Child £3
Due to the popularity of the Exhibition, Saturday mornings are particularly busy, if you can, please consider visiting later on the Saturday or any time on Sunday.
Card payment facilities will be in place for Admission charges, the Club Sales Stand and Refreshment purchases.
Exhibition guide
The courtesy bus timetable is available for download below.
A busy start to our 2023 Exhibition!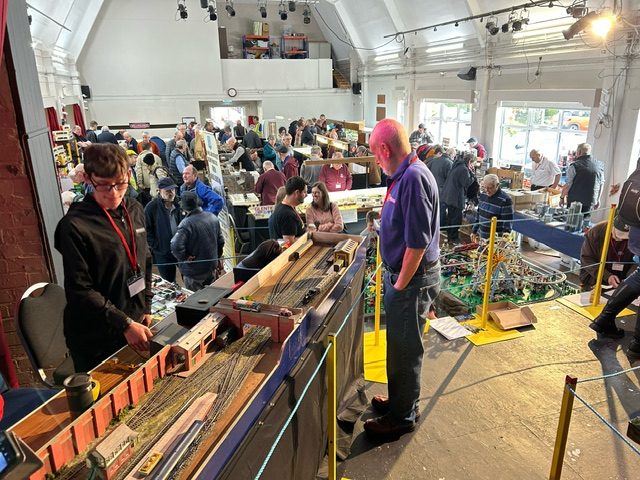 321
Days to our next Exhibition, opens 10 a.m.
00
Hours
00
Minutes
58
Seconds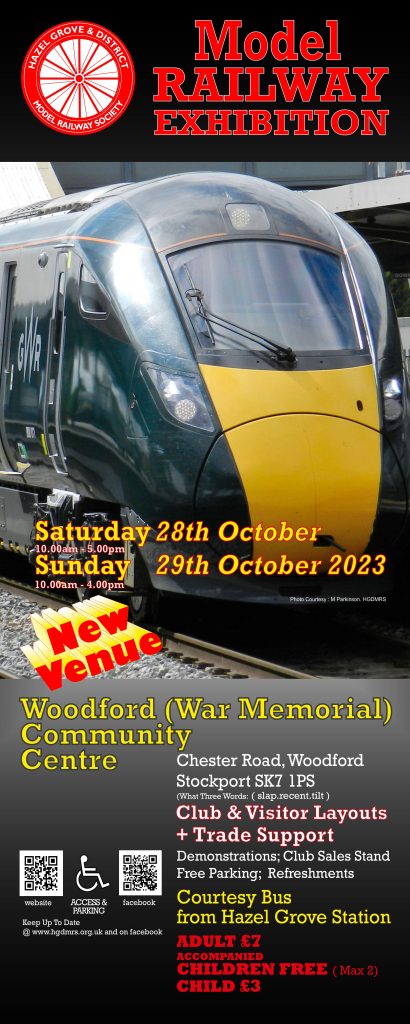 Download the 2023 Exhibition Flyer in pdf format
Late-breaking news
Made in Manchester Models – Will be Saturday only
Historic Railway Maps – Will be Sunday only.
2023 Exhibitors & Layouts
Lindsay Burrows Noware In Particular N
Alastair Knox Glenties OOn3
Martin Roberts Chumley End OO Finescale
Steve Saxby Mortomley OO
Pete Latham Hopeless N
Mike Oates Millhouses N
Pete Goss Copper Wort OO
Alan Price Outwell Village OO Finescale
Nigel Tansley Tan y Owain OO9
Ian Hallworth Vale View O
Phil Maloney Hazel Road OO
Paul Humphries Lego Layout L
Dave Moore Ash Valley O
Norman Hambridge Figgton N
Tony Ennis Grimbledon Down Light Railway OO9
Our ever-popular Club Sales stand will be present, as well as our Information / Publicity stand.
2023 Traders
Jim Lee-Horton The Locoshed Whitefield
Dave Denton SMTF
George Morton GM Transport Books
John Hoyle Made in Manchester Models (Saturday only)
Kevin Colley North Western Models
Chris Bate Leigh Models And Hobbies
Zoe Hunter Historic Railway Maps (Sunday only)
2023 Demonstrations / Stands
Andy Clayton Weathering & Detailing Demonstration
Tony Woodruff N Gauge Society Stand
Ron Finley Bala Lake Railway Society Stand
There will also be a free vintage bus service from Hazel Grove railway station to the Exhibition.
Exhibition guide archive, most recent first
2018 Exhibition guide is in two sections, available for download as shown below.
Other local exhibitions
Please see http://www.ukmodelshops.co.uk/other/events.php for full details of forthcoming Exhibitions in the area.
Exhibition 2018- some pictures for you-
The vintage shuttle bus, and some of the Club layouts.