Stop press
Additional evenings
From 3rd January 2023, we will additionally open on most Wednesdays each month. EXCEPT the second Wednesday, when a different group uses the premises. If in doubt, please contact us by email for confirmation.
Join us in the World of Model Making, embracing a wide range of skills and possibilities-
Modelling & Digital Planning
Exhibiting and Individual Model Construction
Design for Buildings
Building from Scratch
Radio Control and Large Scale Planning
Preparing for Running
Industrial Scenics & Electronic Planning
Proprietary Kit Building
Kit Built Rolling Stock & Large Layouts
Proprietary Kits, Scenic Construction
& Track Maintenance Trains
Running sessions
We plan further running sessions, typically on the second Friday each month. Come along and see what goes on!
Get out and about for Friday evenings of friendly chat and modelmaking!
2023 Exhibition gallery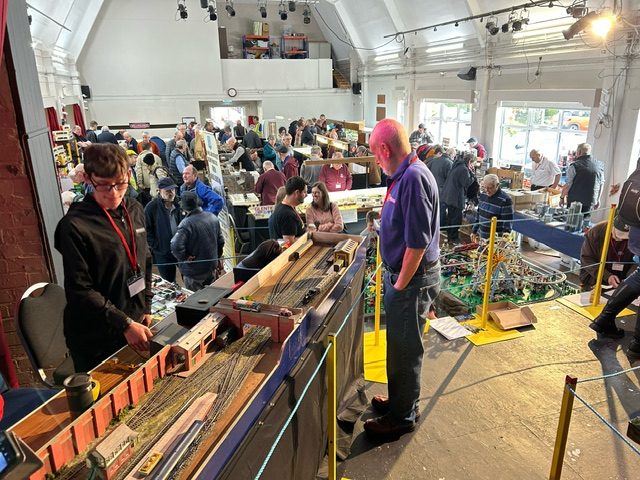 Get information about joining the Club here
Please re-visit this page at intervals for further updates.
It's time to start that layout or build a kit with our help, or join one of the Club's projects.
About the Club
Founded in 1966, we are one of the most popular model railway societies in north-east Cheshire, with a significant number of members (as many as 60 in the recent past).
The Society currently has layouts in O; HO/OO (American and British) and N gauges, and we would like to take this opportunity to invite you to visit our club house take a look around, have a chat with the members and take a cup of tea with us – all for free!
Why not check-out our annual Open Day, held at our Club rooms in June and our annual Exhibition at Hazel Grove Sports Centre held at the end of October, please see the Exhibition and Open Day pages for full details.
So, if you're considering dipping your toes into the world of model railways; or maybe you've started a layout but got stuck and need some help, or you're just plain curious, get in contact or come and see us one club night. We don't bite, well, one of us does, but we keep him chained up in the corner making the tea….
Please visit the Exhibition page to learn about our plans and intentions.
We are pleased to announce a series of Mutual Improvement Classes that will be open to all Club members. These will cover topics of interest to novice modellers as well as the more experienced. An opportunity not to be missed! Why not join us now?
Club nights and how to find us
The Club currently meets on Friday evenings from 19:30 to 22:00 at the Methodist Church Hall, Wesley Street, Hazel Grove, Stockport SK7 4JQ. (Location map) where we have our meeting rooms and well equipped workspace. Please go to the car park at the rear of the building and ring the left hand door bell on the blue double doors for admittance.
Please note that we do not meet on any of the following Bank and Statutory Holidays – Good Friday, Christmas Day, Boxing Day, New Years Day.
Hazel Grove railway station is 5-10 minutes walk. The 192 bus service from Manchester city centre to Rising Sun (Hazel Grove) runs frequently along the A6 Buxton Road. You should alight at Hazel Grove Civic Hall.
See Transport for Greater Manchester for current train and bus timetables.
what3words
The what3words address for the Club room entrance is ///tuck.raced.sheets
This will take you to the back door of the Church Hall where you should ring the left hand door bell on the blue double doors for admittance.
This geolocation App is available for iOS and Android devices. Please see https://what3words.com/daring.lion.race
A typical Friday Club night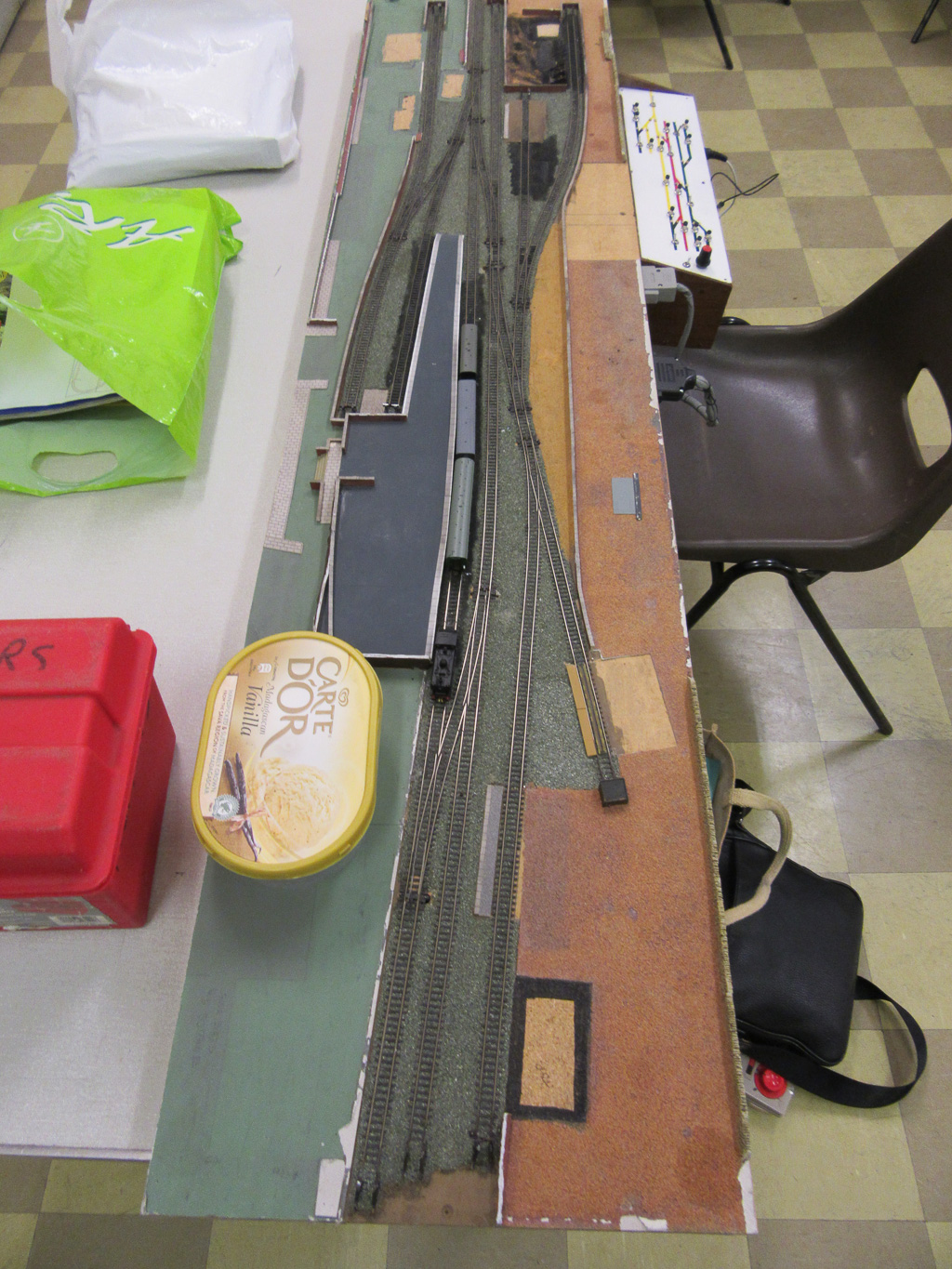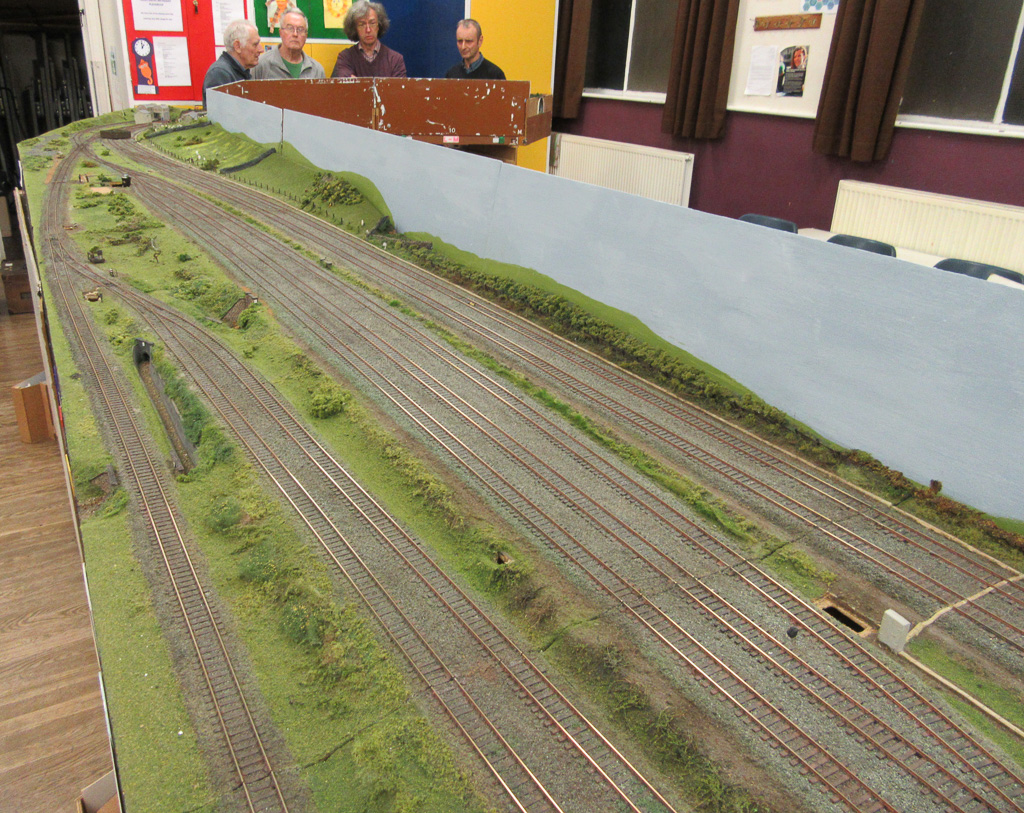 Member's private projects
Club nights give an opportunity for Members to work on private projects as well as Club ones.
The "144 challenge" is such a project. The downloadable narrative tells the story of how one member faced up to the challenge of creating a prize-winning diorama of no more than 144 square inches, including as many types of transport as possible.
The finished diorama-there is a canal running under the two bridges
Club facilities
There is an extensive library for Members to use
We have a good range of tools and materials for use in projects
Layout projects are used for developing Members skills
Films are shown at various times
Our history
Problems logging into "Members zone"?
Privacy statement
We do not use Cookies to track your movements.