Model Railway Open Day in Hazel Grove
2022 Open day – 29 October 2022
This smaller one day event combines our Open Day and Exhibition for 2022, and will be held at our Club Room(s) in Hazel Grove.
FREE admission!
Opening times 10:00-17:00 (10AM-5PM).
Entrance
Visitors should enter via the front door of the Church Hall (facing Wesley Street).
Exhibits
The majority of planned exhibits will be Club layouts-
Aldwyn Brook (work in progress) OO scale
Ash Valley- running trains O scale
Figgton N scale
Hazel Valley- running trains OO scale
Lego ™ layout- running trains-one for all tastes and ages! Lego ™
Shorley Knott – running trains / work in progress (Club member's private layout) O9
Smethurst Junction- running trains OO scale
Youngstown / Phoenix (construction and work in progress) HO scale
Whisbech and Upwill Tramway, Outwell Basin (Club member's private layout) HO Tram
This list is not yet final and may change before the Open Day. We will keep it updated so please remember to check nearer the date.
Demonstrations
Soldering
N gauge kit building
Logistics
Catering / refreshments
Tea, coffee, bottled water, snack bars and crisps will be available to buy. Due to restricted facilities, hot food will not be available, but you can visit one of many outlets on the A6 to get hot food. You will be able to return to continue your visit without restriction!
Car Parking
There will only be "mobility impaired" parking available at the Church Hall. Visitors should use local (paid) car parking or on-street parking where available.
Stair lift
There are two stair lifts to access the Exhibition areas (due to the age and layout of the building) which will be available on request. Club Stewards will be trained in its use and visitors should request our support when they need to use it.
Trade support
SMTF
High Lane Models
Northwest Models
Sponsorship
Harry Needle Railroad Co.
How to find us
Go to the Methodist Church Hall, Wesley Street, Hazel Grove, Stockport SK7 4JQ. (Location map)
Hazel Grove railway station is 5-10 minutes walk. The 192 bus service from Manchester city centre to Rising Sun (Hazel Grove) runs frequently along the A6 Buxton Road. You should alight at Hazel Grove Civic Hall.
See Transport for Greater Manchester for current train and bus timetables.
Watch this space for updates!
Our Open Day is an opportunity for visitors to see work in progress on layouts, perhaps with one or more layouts being operated. You can chat with Club members and find out what you want to know in as much depth as you would like. Learn about all the mistakes we have made, so that you don't do the same. Get the benefit of all our experience.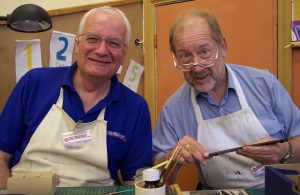 Remember to put the details in your diary!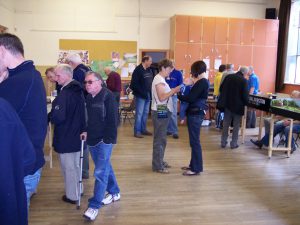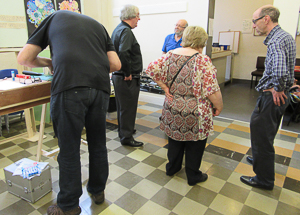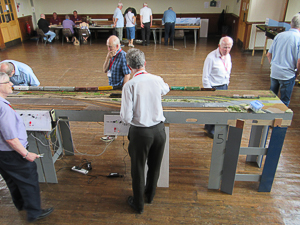 Layouts, demonstrations and traders for the Open Day
A number of Club layouts will be running or being worked on, together with (subject to availability) members private layouts. A variety of modelling techniques will be demonstrated and our local trader (SMTF Models) will normally be in attendance.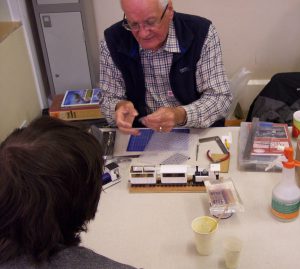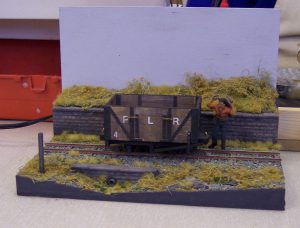 Sales stand
Our Club sales stand will be there, so you can browse for a bargain or two or three….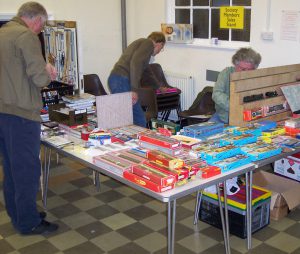 We look forward to seeing you at our next Open Day!